Belize Cruise Port
Belize Cruise Terminal – Belize Cruise Ship Terminal: Tourism is one of the major industries in Belize and government statistics say one in four Belizeans work in this sectors. In 2004, over 800,000 tourists visited Belize; projections for 2005 exceed 1,000,000. Carnival Cruise Lines signed an agreement in July 2005 with Belize Ports Ltd. for the construction of a US $50 million cruise terminal next to the Port of Belize Ltd. This project serves as a catalyst for the development of the new Commercial Free Zone and the new Export Processing Zone to be built next to the Cruise Terminal between 2005-2007.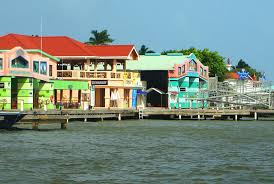 Belize Cruise Ship Terminal – Security: Cruise excursions leaders are ask to please bring a long a copy of your tour confirmation on the day of tours. From time to security at the Belize Cruise Ship Terminal would ask you to produce a copy of your tour confirmation.
Belize Cruise Terminal - Tricks: There is a trick the security officers are playing at the Belize Cruise Port Terminal. When security ask you to produce your tour confirmation and you don't produce it, they will ask you to go to the next door. The security officer at the next doo will ask you to produce a copy of your tour confirmation again. If you don't produce it they will send you to the next door again. This will go on and on. This is done to prevent you from meeting with the tour companies you book with, so you may decide to book your cruise excursions with the tour guides that are inside the Cruise Terminal. It's a shame that this is done, but you will have to demand to exit the Cruise Terminal otherwise you will be pushed around by the security officers.
Tour Companies In The Belize Cruise Terminal: From time to time tour companies and tour guide inside the cruise terminal when asked about tour companies you are booked with would say that the tour company doesn't exist. They would also mention that the tour companies you booked with have left on tour. Remember that you book private tours with a tour company for Belize Cruise Port please bring along a cell number so you may be able to contact the tour company you booked with.

HOW WE WILL MEET:
We ask that you try to be off your ship as soon as possible. If you can board the first tender, that will be great. When you are off your tender, please go to Terminal #1 and exit from the glass door. After you exit from the glass door take a right turn and walk to the Light House. Don't be distracted by any one. Just go the LiGht House and you will find us. with a sign that reads your name.

Here is a picture of the Light House where we will meet.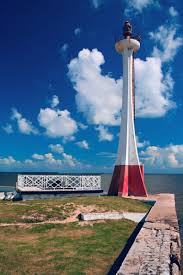 As you are being tendered in the Belize Cruise Port you will see the Light House on the right hand side of your tender. THAT'S WHERE WE WILL MEET.